DERMABON Soap-Like Psoriasis Treatment - 6 pack
---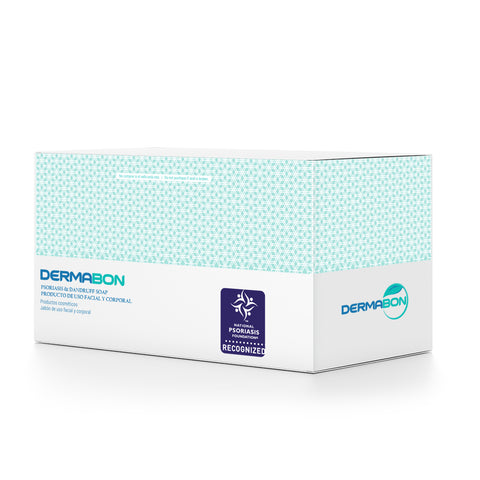 Includes: 6 bars of DERMABON soap-like treatment.
DERMABON is a simple and easy to use treatment to reduce and heal the symptoms of Psoriasis by restoring your skin to a healthy and smooth condition. Its active ingredients, along with other moisturizers, reduce the raised, red, and scaly patches that appear on the skin. Rigorous daily use can lead to complete skin recovery within 3 months!  
All natural ingredients.
Does not contain cortisone.
93% success rate.
Safe to use by people of all ages including infants.
Safe for pregnant women.
Safe for babies, children and elders.
FDA Approved
Kosher
Can be used for dandruff and seborrhea.
Soap-like daily use treatment.
DERMABON is 
produced in small batches
 and is manually crafted from the highest quality 
natural ingredients. 
The product has a green/black color. The approximate weight per bar is 2.5 oz.
Using DERMABON is easy:
1. Generously apply DERMABON on all areas affected by Psoriasis.
2. Let the foam soak and penetrate the affected area for at least 3 minutes.
3. Rinse thoroughly with water and pat dry.
4. Repeat these steps two times daily until the lesions have completely disappeared.
For dandruff and seborrhea, wash your scalp twice a day with DERMABON.
For more information please visit our DERMABON information page.
Before and after:
Related Products
---